Rare Voices Australia (RVA) introduced our RVA Ambassador Program in 2022 to celebrate 10 years of rare disease advocacy. The RVA Ambassador Program will continue in 2023. The overarching theme is, Illuminating People Living with a Rare Disease. Each RVA Ambassador brings their own unique lived experience of rare disease.
Rare Voices Australia Ambassadors
Katie Alexander
Frequent falls, extreme fatigue and pain led to Katie's diagnosis of Dermatomyositis. The rare disease destroys skin, muscles, tendons and organs reducing strength, dexterity and mobility. It can present with cancer, cardiac and auto-immune conditions. Myositis is fatal when inflammation scars the heart (Cardiomyopathy) and lungs (Interstitial Lung Disease). Katie's Myositis symptoms were untreated for nearly 40 years until advanced disease prevented her from climbing stairs and rising from chairs. By then her muscles were wasting, dying and shortening. Katie had problems chewing, swallowing and speaking. Significant hair loss, skin rashes, peeling, lumps and blood spots changed her appearance. The aggressive disease was resistant to pharmacological treatment (steroids, chemotherapy, immunotherapy) until a kinase (JAK) inhibitor was trialled in 2021. Katie is very grateful for this respite and now shares her experiences of rare disease, disability and family violence through advocacy roles with the National Disability Insurance Agency (NDIA), Safe Steps, Peter MacCallum Cancer Hospital, Monash University and RMIT University.
Andrew Bannister
Andrew was born with three rare brain malformations – Periventricular Nodular Heterotopia (PVNH), Polymicrogyria and Cerebella Hypoplasia – as well as two other congenital malformations. His cerebellum is a quarter of the average size. These rare malformations have not stopped him achieving many things even though he has an intellectual and physical disability. Andrew's determination to overcome the obstacles in his life inspires people, yet it is he who wants to help others by raising awareness about rare diseases. Among others, Andrew played a key role in the formation of the first Parliamentary Friends of People with Rare and Undiagnosed Diseases in Western Australia in 2021. Additionally, since 2020, Andrew has played a pivotal role in organising illuminations for Rare Disease Day in Australia. Read Andrew's full story.
Lachy Beckett
Lachy was diagnosed with a rare disease called Juvenile Dermatomyositis (JDM) when he was three years old. JDM is a form of Myositis affecting children. Myositis is a group of rare autoimmune diseases affecting the muscles. Lachy has been active as a volunteer in raising awareness for people with rare diseases for the past 10 years. He is currently involved in a business start-up with his family and in his spare time, loves playing guitar, reading and playing chess. Read Lachy's full story.
Ryan Brown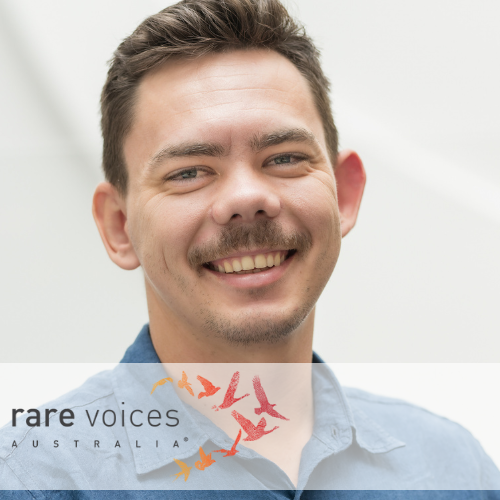 Ryan was diagnosed with Hennekam Syndrome in 2015 alongside two of his brothers. Hennekam Syndrome is a form of primary (congenital) lymphoedema in which lymphatic vessels are abnormally enlarged. This is a problem because it means they are more likely to leak protein-rich fluid, which would normally be returned to blood circulation. This causes lymphoedema or swelling due to the accumulation of this fluid, often bilaterally in the legs for many cases of primary lymphoedema. Ryan is currently a third year PhD candidate at Peter MacCallum Cancer Centre in Melbourne. His aim is to understand how we can direct growth factor delivery to regenerate zebrafish lymphatic vessels in various contexts, not just in the situation of impaired development. Ryan hopes one day, his work will help reveal how the cells that make up lymphatic vessels can be stimulated to repair lymphatic injuries and abnormalities. Understanding this would not only benefit the rare population suffering from primary lymphoedema, but it would also help the many people who have secondary (or acquired) lymphoedema, caused by lymph node resection or radiation in cancer therapy (1 in 1000 people have secondary lymphoedema). Read Ryan's full story.
Ebony Callaghan
Ebony is 24 years old, lives with Intestinal Failure and requires Home Parenteral Nutrition. For the first few years of her life, no one noticed anything unusual apart from severe reflux and moderate constipation. At 11 she became unwell with what was thought to be a simple gastro bug, but after a week or two, she wasn't better and was admitted to hospital for investigation. At 17 she was eventually diagnosed with Superior Mesenteric Artery Syndrome (SMAS), a very rare and life-threatening digestive system disorder that occurs when the duodenum (the first part of the small intestine) is compressed between two arteries (the aorta and superior mesenteric artery). Ebony feels incredibly lucky to have been chosen to be an RVA Ambassador and looks forward to sharing more of her story and lived experience.
Tim Fulton
Tim was formally diagnosed with Adult-onset Still's disease (Still's disease) in 2016 at the age of 22. Still's disease is a rare systemic, auto-inflammatory condition that affects between one in 100,000 to one in 1,000,000 people globally. In August 2020, to stay on top of his mental health, combat the effects of calcium leaching from medication and driven by his desire to encourage people, in particular the rare disease community, Tim set himself the goal of running 100km before Rare Disease Day — a big audacious goal given his health! He began the Instagram page Running Rare to document his progress and this has evolved to the development of an accompanying website to encourage and uplift the rare disease community. Tim is a big believer of living with a 'it is possible' attitude. This doesn't mean you're naive to the reality of your circumstances, but it does encourage and motivate you to think about what might make something possible — and that is such an important first step.
Tammie Rees
Tammie is the mother of two children and lives in regional Victoria. Her youngest is 5 years old next and was born and diagnosed in 2017 with Maple Syrup Urine Disease. Tammie says it's been a very big learning journey but one in which her family has managed to find their feet and now are ready to have their voices heard on important issues such as inclusion, research, cures and anything else they can do to help. She is excited to see what we can achieve together. When Tammie is not busy working and with family life, she enjoys running. Read Tammie's full story.
Beck Webber
In 2014, Beck noticed small micro changes in the way her body operated, which was noted in her medical files. On Christmas night in 2017, she fell down a flight of 11 stairs after losing her footing on the top step. This resulted in her spending the next 12 months with a crushed disc and surgery to replace the disc and rods in her back. In 2020, Beck noticed she was becoming highly fatigued, sleeping all day and her legs either felt like jelly or stiff as a board. After a blood test was sent to the United States of America for genetic testing, she was eventually diagnosed with Spinocerebellar ataxia type 36 (SCA36). Beck is looking forward to 'illuminating' the rare disease cohort in a more public manner and sharing her experiences as a para equestrian athlete. Read Beck's full story.
Renae Wood
Renae is 27 and is based in Brisbane, Queensland. She was born with a rare disease called Epidermolysis Bullosa (EB), which is a condition that causes fragile, blistering skin that also tears easily and scars. The gene fault that caused Renae's EB is rare and is also responsible for her diagnoses of alopecia and dilated cardiomyopathy. Living with rare disease can feel isolating and can make life unpredictable, which is why Renae feels it's important for those living with a rare disease to share their experiences. Renae's hope is to empower people to share their stories, so that we are reminded that we're not alone but are part of one brave community. Read Renae's full story.