Quick Search: Our Purpose Building Our Voice How We Work RVA Funding RVA's Logo
Rare Voices Australia (RVA) was established in 2012 following a consensus call from 200 attendees at the inaugural Awakening Australia to Rare Disease International Symposium held in Fremantle, Western Australia in 2011. Learn more about the outcomes from the Symposium here.
Since our inception in 2012, RVA has advocated for a National Rare Disease Plan. On 27-28 March 2015, RVA held its first National Rare Disease Summit where a draft Communiqué listing the key principles and objectives of a National Rare Disease Plan were reviewed. Almost 200 organisations and individuals formally signed and endorsed the call for a National Rare Disease Plan.
In June 2017, the themes of the Communiqué were further developed into the key advocacy and policy document, Call for a National Rare Disease Framework: 6 Strategic Priorities. This made the case for a nationally coordinated approach to effective rare disease policy and was presented to the Minister for Health. This policy document was critical in creating momentum in rare diseases policy, particularly around the Medical Research Future Fund (MRFF) targeted investment into rare cancers and rare diseases, reforms to the Life Saving Drugs Program, and fee exemptions relating to the Therapeutic Goods Administration reforms to Orphan Drug Designation.
In 2018, the Australian Government commissioned RVA to lead the collaborative development of the National Strategic Action Plan for Rare Diseases (the Action Plan). RVA led an extensive multi-stakeholder consultation process throughout 2019. The Minister for Health launched the Action Plan on 26 February 2020, alongside an initial investment of $3.3 million. RVA continues to work with State and Federal Governments, as well as other stakeholders, in leading implementation of the Action Plan.
In addition to our policy and advocacy work, RVA hosts the biennial National Rare Disease Summit, organises regular Parliamentary Events, provides education and mentorship support to RVA Partners, holds quarterly meetings with industry via the RVA Round Table of Companies and is the national alliance representing Australia on the global Rare Disease Day Working Group and Rare Disease Day Steering Committee that collaboratively develops annual Rare Disease Day activities.
2023 Strategy
Following RVA's annual Strategy Planning day in 2020, we developed a 2023 Strategy document that details RVA's Vision, Mission and Philosophy, the organisation's three and 10-year aspirations, as well as six focus areas. Click here to download RVA's 2023 Strategy (external version).
BUILDING A UNIFIED VOICE
Our Vision
RVA is dedicated to working with all key stakeholders to drive the best outcomes for Australians living with a rare disease.
Our Mission
RVA provides collaborative leadership for the development and implementation of rare disease policy in Australia.
HOW WE WORK
We are person-centred
We want the outcomes that are best for each person as an individual. We will be driven by the needs of each person and by what works best for them. We won't impose our assumptions on people.


We will actively build and maintain partnerships
We are the voice of the sector, magnifying the voices of all stakeholders that share our goals. We recognise that achieving the transformation we want to see in Australia will require us working in partnership with stakeholders.


We aim for a unified voice
We recognise that without a unified voice, the rare disease sector cannot be successful in achieving the support for people living with a rare disease that we need. As a result, we will prioritise consultation and conversation within the sector to ensure that our voice to policy-makers and the broader community is as unified as possible.


We work for equity of access and participation
We believe that equity of access and participation is vital for all people living with a rare disease in Australia. In our initiatives, we will ensure that equity is a key factor in our planning and design. And in our advocacy, the principles of equity will be foremost in our messaging.


We will equip and empower
We aim to equip and empower organisations and people to help them advocate and work for themselves.


We are solutions and results oriented
We want to see results for people living with a rare disease in Australia. We are not going to be bound to theoretical models. We will adopt what works and will test our initiatives against the results they deliver.


We are credible
We recognise that our effectiveness is only as good as our credibility and trustworthiness. We will ensure that all of our actions and words build our credibility, rather than erode it. We recognise that trust takes a long time to build but can be quickly lost.


We will adopt a systemic focus
We are uniquely positioned to engage in systemic advocacy. Effective reform to systems and processes must be prioritised to reduce individuals and groups repeatedly facing common challenges. This is vital to achieving sustainable change at scale.
HOW IS RVA FUNDED?
RVA is a registered Company Limited by Guarantee and operates under a partnership model, offering different levels of partnership. Our RVA Partners primarily include rare disease support groups, individuals, clinicians and researchers.
We rely on Government funding, grants, donations, and project funding. In accordance with RVA's Mission and Working with Pharmaceutical Industry Policy, pharmaceutical companies provide funding through participation in RVA's Round Table of Companies and project sponsorship. Additionally, we rely on philanthropic funding and donations from the Australian community.
RVA is grateful for our supporters.
RVA'S LOGO EXPLAINED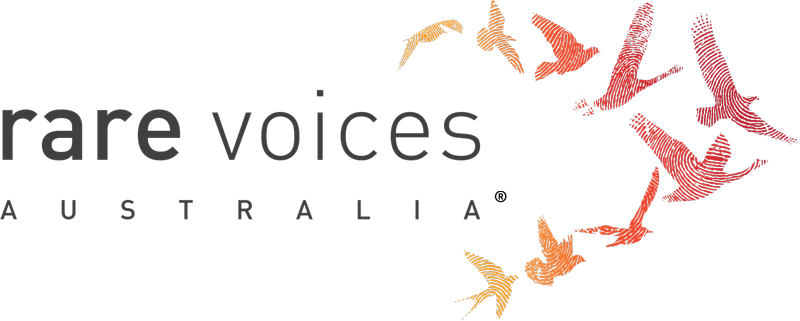 The V formation of the birds
By flying as a team in a V formation, each bird is assisted in supporting its own weight in flight. The birds flying at the tip of the formation are rotated to reduce fatigue and allow the weaker birds to gain strength over time. The birds learn and grow as part of the team. The V formation also allows for easier communication as the birds all keep sight of each other.
The fingerprint texture
This represents the individuality of people living with a rare disease. Everyone has their own personal story, and their own unique journey that they can share with the rare disease community.
Colour scheme
The warm ochre colour palette represents the Australian community and the distinctive landscape which nurtures it. It also suggests optimism, strength and energy.
Note: please do not use RVA's logo in any capacity without written consent. You can request permission to use the logo by contacting: communications@rarevoices.org.au